Join the Greek School of Brighton for the annual celebration of 25th March, Greece's National Day of Independence. Directly after church on Sunday the 22nd March, the Greek School will be celebrating with poems, songs and traditional dances performed by the pupils of our school. The celebration will be held in the hall directly next to the church.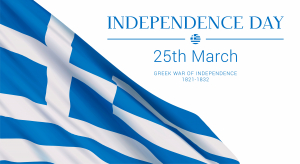 Every year during the 1st of April, Cyprus commemorates the Greek Cypriot National Day or EOKA in memory of the establishment of the National Organization of the Cypriot Struggle known as EOKA (Ethniki Organosis Kyprion Agoniston). EOKA aimed to fight for the country's independence against the British colonies on 1955. Cyprus continued the fight and almost four years later was granted independence!!
25th March a double holiday: a historical and a religious one. Greeks celebrate the War of Independence against the Ottoman Empire. The "Greek Revolution" was a successful war of independence waged by the Greek revolutionaries between 1821 and 1830.

Greek Orthodox Church celebrates the Annunciation by archangel Gabriel to the Virgin Mary that she should become the mother of Jesus Christ the Son of God. 25th March is exactly nine months before Christmas!

The country marks the double holiday with two things: Parades and Bakaliaros (Cod fish)

A custom across the country on this day is to eat crispy, fried Cod fish with garlic sauce (Bakaliaros skordalia) ! This has to do with the Lent before Easter, where no animals or animal products should be eaten. However the Orthodox Church allowed an exception for the celebration of the Annunciation and that is the Cod fish!

So, After their performance we would like to invite you for a bite to eat.
If you would like to join us please let us know so we have an idea for numbers and how much fish we will prepare.
Prices will be £10 for adults and £5 for children.
This will include your meal and drinks and nothing more will be needed to be paid on the day.
Next week Saturday we will sell tickets at Greek School and on Sunday at church.